As the first French manufacturer of hydrogen buses, our company Safra was present at the EUMO (European Mobility Expo) which took place in Paris at the Porte de Versailles from 7 to 9 June 2022. This major annual event, which gathers every two years in Paris the different actors of public transport, is of course the opportunity for us to highlight our historical know-how, but also and especially this year, to promote our latest creation: the Hycity®. The design of this new hydrogen bus will be officially presented at the Safra stand.
During the conference held on Tuesday, June 7, Eric BALEVIEZ, Safra's sales and marketing director, spoke in front of some 40 people to explain in detail the technological and design advances of this new vehicle that completes the range of hydrogen buses.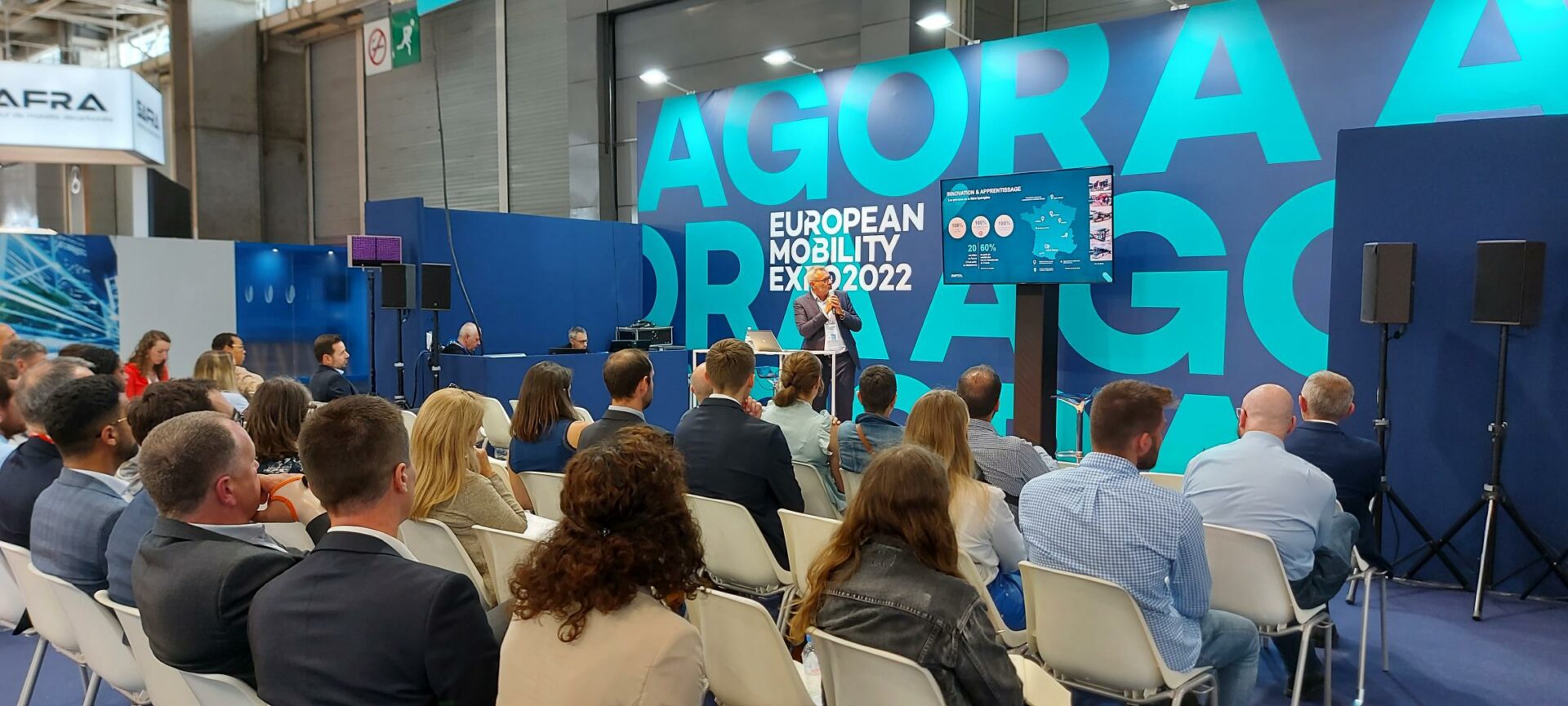 A new hydrogen bus in the catalog
The Hycity® will make its official debut at the opening of the European Mobility Expo on 7 June at 9am. Through various animations on our stand, Safra unveiled the new lines of its hydrogen bus, and also exposed the technological advances from which the Hycity® will benefit through the feedback of its predecessor, the Businova®. 
With its latest technologies and sleek design, this bus completes the catalog of solutions for low-carbon mobility that we offer.
A new logo will adorn the grilles of the hydrogen buses manufactured by the company. This new visual identity marks our commitment, our evolution and our projection towards the future. It is a logo that anchors the company in its resolutely industrial universe.
This new visual identity, which will be unveiled on June 7 at the EUMO trade fair, perfectly sums up Safra: a strong company, anchored by its experience and recognized know-how, and whose entrepreneurial, forward-looking and visionary spirit resolutely directs its strategy towards the future.

A low-carbon mobility strategy
The European Mobility Expo is also an opportunity for us to highlight our carbon-free mobility strategy. In addition to the launch of the Hycity® design, a complete catalog of sustainable mobility solutions will be presented. Safra's strategy is in line with environmental and social issues, through its various activities: the construction and marketing of hydrogen buses under the Hycity® brand, the retrofitting of buses with hydrogen, the renovation and heavy maintenance of passenger transport vehicles, and customer service.